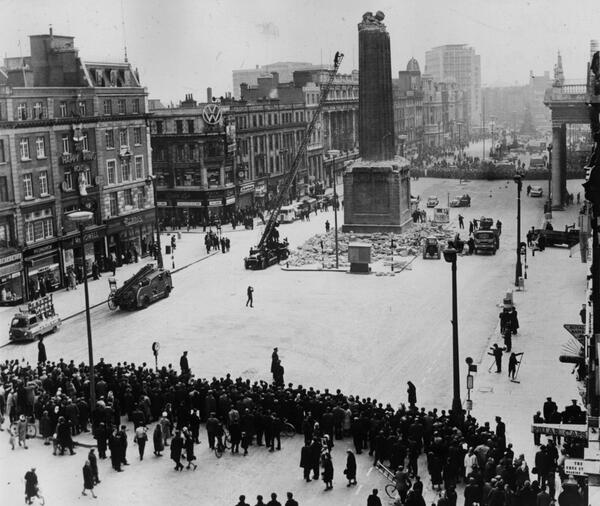 "@PhotosOfDublin: 9th March 1966 – the Irish army start to remove what remains of Nelson's Pillar pic.twitter.com/TOXN83sIaa"
This photo gives a sense of a serious political event that was happening in Dublin, when I was in Goldenbridge Industrial "School". Nonetheless, I was so institutionalised, that I knew nothing about what was going on in the outside world.
I vividly recall, though, in the 70s, when residing at St. Louise's Hostel, Medway St. London, a girl by the name of Campbell, who was a strong advocate of Irish rebel songs. She originally hailed from Northern Ireland, so that was not unusual that she would like songs of that ilk. The music that blared from her cubicle opposite me…went:
So that was how I found out about the now historical event that happened in the heart of Dublin.
Scannal has great coverage of the blowing up of Nelson's Pillar.
 Nelson's Pillar:  The day they blew it up 1966. Part 2 – by Dan Breen
Nelson's Pillar: The day they blew it up. Part 3 – by Dan Breen