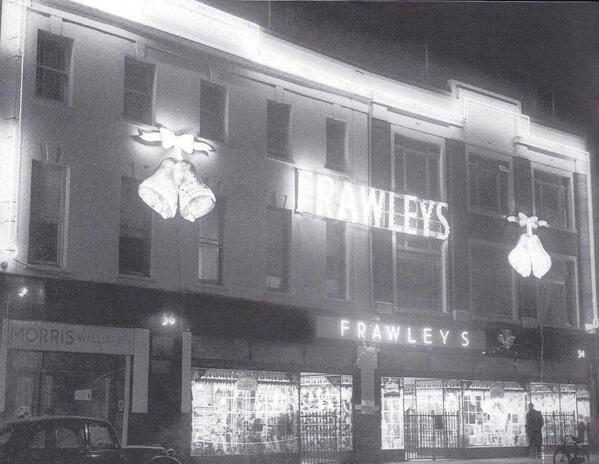 Old Dublin Town ‏@OldDublinTown
Dublin History ~ Frawley's at Christmas on Thomas Street 1950s #Dublin @thomasstreetdub pic.twitter.com/PCQQ04Uo0M
Esther Boyne told me years ago that her mother and herself took me to Frawley's to buy all my communion clothes. She said that I got a beautiful blue coat. I do remember my dress, as it had three dimensional bubbles on it, which reminded me evermore of sago, or rubber balls, as children called it, that we got for dessert in Goldenbridge. I have recollections of insisting that I get black patent horn-pipes, that were worn by children for Irish dancing, but also from old photos that I 've seen were also worn by children at Holy Communion time.
I went into Frawley's a couple of years ago to buy some items for old times sake. I was sad to see that the shop had changed hands. The shop front is still exactly the same – with the gates to boot.
Clothes for children at Goldenbridge were also purchased from Frawley's.
leap leg
. I took a photo of the the entrance floor at Frawley's  – but this one h/t leapleg – fits the theme better.