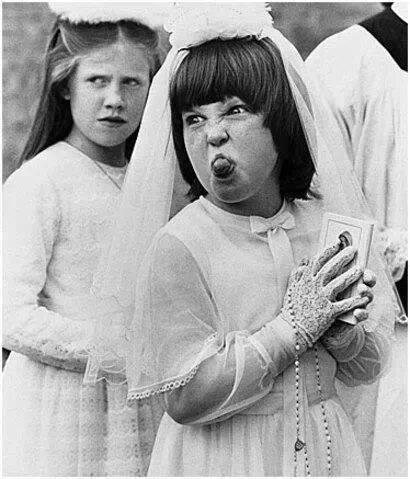 Love this girl! RT "@PhotosOfDublin: A communion girl in Dublin. Can anyone shed light on her identity?" pic.twitter.com/YoHMqlPoza"5:25 PM – 3 Jan 14 · Details
Hahaha. Me too! Spot on! Talk about a picture painting a thousand words. Well, this one does, for sure.
Gosh, I remember the prayer-book and the laced gloves too. By the looks of it, I'd gather there wasn't a lot of praying going on in the Holy Communion girls' life. Miley Cyrus move over. 🙂
She was hardly from Goldenbridge, as children were not allowed to have long fringes , or long hair for that matter at all.